YOU SHOULD KNOW ABOUT:
PAST EVENTS AT WALDEN POND BOOKS
KPFA Radio presents:
MICHIO KAKU
Physics of the Future:
How Science Will Shape Human Destiny
and Our Daily Lives By the Year 2100
Thursday, February 23 @ 7:30 pm
First Congregational Church
2345 Channing Way, Berkeley
Hosted by Philip Maldari



Advance Tickets @ Walden Pond Books: $12.00 | Tickets at the Door: $15.00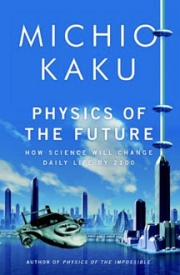 In Physics of the Future, Dr. Michio Kaku gives us a stunning, provocative, and exhilarating vision of the coming century based on interviews with over three hundred of the world's top scientists who are already inventing the future in their labs. The result is the most authoritative and scientifically accurate description of the revolutionary developments taking place in medicine, computers, artificial intelligence, nanotechnology, energy production, and astronautics.
In all likelihood, by 2100 we will control computers via tiny brain sensors and, like magicians, move objects around with the power of our minds. Artificial intelligence will be dispersed throughout the environment, and Internet-enabled contact lenses will allow us to access the world's information base or conjure up any image we desire in the blink of an eye.
Meanwhile, cars will drive themselves using GPS, and if room-temperature superconductors are discovered, vehicles will effortlessly fly on a cushion of air, coasting on powerful magnetic fields and ushering in the age of magnetism.
Using molecular medicine, scientists will be able to grow almost every organ of the body and cure genetic diseases. Millions of tiny DNA sensors and nanoparticles patrolling our blood cells will silently scan our bodies for the first sign of illness, while rapid advances in genetic research will enable us to slow down or maybe even reverse the aging process, allowing human life spans to increase dramatically.
In space, radically new ships - needle-sized vessels using laser propulsion - could replace the expensive chemical rockets of today and perhaps visit nearby stars. Advances in nanotechnology may lead to the fabled space elevator, which would propel humans hundreds of miles above the earth's atmosphere at the push of a button.
But these astonishing revelations are only the tip of the iceberg. Synthesizing a vast amount of information to construct an exciting look at the years leading up to 2100, Physics of the Future is a thrilling, wondrous ride through the next 100 years of breathtaking scientific revolution.

Dr. Michio Kaku is a theoretical physicist, best-selling author, and popularizer of science. He is the co-founder of string field theory (a branch of string theory), and continues Einstein's search to unite the four fundamental forces of nature into one unified theory. His previous books include Physics of the Impossible, Parallel Worlds, Einstein's Cosmos, Visions, Beyond Einstein, and Hyperspace. He has appeared on television (Discovery, BBC, ABC, Science Channel, and CNN to name a few), written for popular science publications like Discover, Wired, and New Scientist, been featured in documentaries like "Me & Isaac Newton", and hosted many of his own including the BBC's recent series on Time. Dr. Kaku hosts Science Fantastic and Explorations in Science, two weekly radio programs heard on stations around the country.
Walden Pond Books will be providing signed copies of Michio Kaku's books for sale at the event . We hope to see you there!
---
KPFA Radio presents:
THOMAS FRANK
Pity the Billionaire:
The Hard-Times Swindle & the Unlikely Comeback of the Right
Wednesday, January 25 @ 7:30 pm
The Hillside Club
2286 Cedar Street, Berkeley
Hosted by Richard Wolinsky



Advance Tickets: $12.00 | Tickets at the Door: $15.00
In Pity the Billionaire Thomas Frank, the great chronicler of American paradox, examines the peculiar mechanism by which dire economic circumstances have delivered wildly unexpected political results. Using firsthand reporting on the Tea Party, a deep knowledge of the American Right, and a wicked sense of humor, he gives us the first full diagnosis of the cultural malady that has transformed collapse into profit, reconceived the Founding Fathers as heroes from an Ayn Rand novel, and enlisted the powerless in a fan club for the prosperous. The understanding Frank reaches is at once startling, original, and profound.
"A brilliant expose of the most breath-taking ruse in American political history: how the right turned the biggest capitalist breakdown since 1929 into an opportunity for themselves." — Barbara Ehrenreich.
"Be glad that in this election year you can read Pity the Billionaire instead of turning on the television or the radio or your computer. Pity the Billionaire? Hell. Pity us all." — James K. Galbraith.

Thomas Frank is also the author of The Wrecking Crew, What's the Matter with Kansas?, and One Market Under God. A former opinion columnist for The Wall Street Journal, Frank is the founding editor of The Baffler and a monthly columnist for Harper's.
Walden Pond Books will be providing signed copies of Thomas Frank's books for sale at the event . We hope to see you there!
---
KPFA Radio presents:
MARK VONNEGUT
Just Like Someone Without Mental Illness
Only More So
Wednesday, October 12 @ 7:30 pm
The Hillside Club
2286 Cedar Street, Berkeley
Hosted by Richard Wolinsky



Advance Tickets: $12.00 | Tickets at the Door: $15.00

Delacorte
Just Like Someone Without Mental Illness Only More So is a searingly amusing, intimate account of growing up with Kurt Vonnegut, coping with mental illness, finding a calling as a pediatrician, and learning that willpower alone isn't enough to get us through. Mark felt compelled to write his new memoir because, "The death of my father was a turning point. I hope the book is something Kurt can be proud of from heaven. I am trying to tell the truth about mental illness."

After Mark Vonnegut received a B.A. in Religion from Swarthmore, he started a commune in British Columbia, and shortly thereafter had his first psychotic break. Originally diagnosed as suffering from schizophrenia, he was subsequently diagnosed as Manic Depressive (the medically preferred term is now Bipolar). His book The Eden Express: A Memoir of Insanity was named an ALA Notable Book and was declared by The New York Times to be "required reading for those who want to understand insanity from the inside."
Walden Pond Books will be providing signed copies of Mark Vonnegut's books for sale at the event . We hope to see you there!
---
KPFA Radio presents:
DANIEL YERGIN
THE QUEST:
Energy, Security, and the Remaking of the Modern World
Friday, October 14 @ 7:30 pm
The Hillside Club
2286 Cedar Street, Berkeley
Hosted by Brian Edwards Tiekert



Advance Tickets: $12.00 | Tickets at the Door: $15.00

Penguin
Daniel Yergin, one of the most influential voices on energy in the world, is also a highly respected authority on international politics and economics. He received the United States Energy Award for "lifelong achievements in energy and the promotion of international understanding". He also received the Pulitzer Prize for The Prize, a New York Times bestseller that was made into a PBS/BBC series seen by many millions. He is the chairman of HIS Cambridge Energy Research Associates, and serves as CNBC's global energy expert.

In his new book, The Quest, Daniel Yergin continues the riveting story begun in The Prize. A master storyteller as well as a leading energy expert, Yergin shows us how energy is an engine of global political and economic change. It is a story that spans the energies on which our civilization has been built and the new energies that are competing to replace them. From the jammed streets of Beijing to the shores of the Caspian Sea, from the conflicts in the Mideast to Capitol Hill and Silicon Valley, Yergin takes us into the decisions that are shaping our future.
Walden Pond Books will be providing signed copies of Daniel Yergin's books for sale at the event . We hope to see you there!
---
The Walden Pond Books
2011 Hugo Award Contest
Now through August 19, 2011
Purchase any of the five titles nominated for the
2011 Hugo Award
for Best Novel in the field of science fiction and fantasy.
Every store copy contains a ballot.
Select the book you think will win the award
and leave us your name and phone number on the ballot.
All submitted ballots must be attached to a purchase receipt.
Yes, you can purchase all six books (or five titles - see Connie Willis note below)
and vote for each nominee to be sure of winning!

Pick the winning title and win a
Walden Pond Books $20.00 gift certificate!

Please note: The books Blackout and All Clear by Connie Willis
are treated as a single work by the Hugo Award judges.
A purchase of either of those titles counts as one vote.
Purchase both titles and you get to vote twice!

The 2011 Hugo Awards will be announced and presented
in Reno, Nevada at the
69th World Science Fiction Convention
on Saturday, August 20, 2011.
2011 Hugo Award Nominees for Best Novel
in the field of science fiction and fantasy:
WINNER: Blackout / All Clear by Connie Willis

Spectra
WINNER
BLACKOUT / ALL CLEAR by Connie Willis
A time-traveling epic that follows three historians from the future who are stranded in the past during World War II. Nebula and Hugo award-winning author Connie Willis returns with a stunning, enormously entertaining novel of time travel, war, and the deeds - great and small - of ordinary people who shape history. "Depicts the times and the spirit of the British people remarkably vividly. Characterizations of the historians and the Brits they become close to are multifaceted and believable" — Booklist *** starred review ***. "The award-winning author brings an intimacy to her narrative that increases the tension of her characters. Willis is a consummate storyteller whose immersive style hooks readers from the start" — Library Journal *** starred review ***.

Spectra
WINNER
BLACKOUT / ALL CLEAR by Connie Willis
In the brilliant and exciting follow-up to Blackout, Nebula and Hugo Award-winning author Willis concludes this beautiful, harrowing, time-traveling World War II masterpiece. Told with compassion, humor, and an artistry both uplifting and devastating, All Clear is more than just the triumphant culmination of the adventure that began with Blackout. It's Connie Willis' most humane, heartfelt novel yet - a clear-eyed celebration of faith, love, and the quiet, ordinary acts of heroism and sacrifice too often overlooked by history. "As vivid an evocation of England during World War II as anyone has ever written. . . You'll find here a novelist who can plot like Agatha Christie and whose books possess a bounce and stylishness that Preston Sturges might envy." — The Washington Post.

Baen
CRYOBURN by Lois McMaster Bujold
It's been eight years since Bujold's last book in a series that has become a mainstay of modern science fiction. Finally, Miles Vorkosigan is back and fans of the Vorkosigan saga will hail this latest entry as one of Bujold's best. "After arriving on Kibou-daini for a cryonics conference, interplanetary diplomat Miles Vorkosigan narrowly escapes kidnapping. Drugged, dazed, and alone, he is taken in by Jin Sato, who lives in a building full of squatters running an illegal cryonics clinic. Under imperial orders to investigate the shady dealings of the cryo cartels, Miles connects the far-flung pieces and exposes a sneaky plot. Bujold successfully mixes quirky humor with just enough action, a dab of feminist social commentary and her usual superb character development . . . enormously satisfying." — Publishers Weekly

Pyr
THE DERVISH HOUSE by Ian McDonald
Welcome to the world of The Dervish House; the great, ancient, paradoxical city of Istanbul, in the great, ancient, equally paradoxical nation of Turkey. The year is 2027. This is the age of carbon consciousness: every individual in the has a card stipulating individual carbon allowance that must be produced at every CO2 generating transaction. For those who can master the game, who can make the trades between gas price and carbon trading permits, who can play the power factions against each other, there are fortunes to be made. The Dervish House is seven days, six characters, three interconnected story strands, one central common core - the eponymous dervish house, a character in itself - that pins all these players together in a weave of intrigue, conflict, drama and a ticking clock of a thriller. "A sense of the beautifully strange permeates the text. . . an audacious look at the shift in the power centers of the world and an intense vision of one possible future." — The New York Times.

Orbit
FEED by Mira Grant (aka Seanan McGuire)
The first novel in a brilliant new series: "The Newsflesh Trilogy".
The year was 2014. We had cured cancer. We had beat the common cold. But in doing so we created something new, something terrible that no one could stop. The infection spread, virus blocks taking over bodies and minds with one, unstoppable command: FEED. Now, twenty years after the Rising, Georgia and Shaun Mason are on the trail of the biggest story of their lives - the dark conspiracy behind the infection. "A gripping, thrilling, and brutal depiction of a postapocalyptic 2039. Shunning misogynistic horror tropes in favor of genuine drama and pure creepiness, McGuire has crafted a masterpiece of suspense with engaging, appealing characters who conduct a soul-shredding examination of what's true and what's reported."— Publishers Weekly *** starred review ***.

Orbit
THE HUNDRED THOUSAND KINGDOMS by N.K. Jemisin
Yeine Darr is an outcast from the barbarian north. But when her mother dies under mysterious circumstances, she is summoned to the majestic city of Sky. There, to her shock, Yeine is named an heiress to the king. But the throne of the Hundred Thousand Kingdoms is not easily won, and Yeine is thrust into a vicious power struggle. "Convoluted without being dense, Jemisin's engaging debut grabs readers right from the start. Multifaceted characters struggle with their individual burdens and desires, creating a complex, edge-of-your-seat story with plenty of funny, scary, and bittersweet twists." — Publishers Weekly *** starred review ***. "An engaging heroine and a fresh take on traditional dynastic fantasy make this trilogy opener a delight." — Library Journal *** starred review ***. "This complex tale of politics, assassination, racism, and gods too intimately involved in the lives of humans is a challenging read and a notable authorial debut." — Booklist *** starred review ***.
---
KPFA Radio presents:
CALVIN TRILLIN
QUITE ENOUGH OF CALVIN TRILLIN
Forty Years of His Funny Stuff
Monday, September 19 @ 7:30 pm
The Hillside Club
2286 Cedar Street, Berkeley
Hosted by Richard Wolinsky



Advance Tickets: $12.00 | Tickets at the Door: $15.00
PLEASE NOTE: The Calvin Trillin event is SOLD OUT.
However, Walden Pond Books will reserve signed copies
of any of the three titles listed below. If you would like us to
hold signed copies for you please call us at 510-832-4438
before 5:00 pm on Monday, September 19.
For at least forty years, Calvin Trillin has committed blatant acts of funniness all over the place: in The New Yorker, in one-man Off-Broadway shows, in his "deadline poetry" for The Nation, in comic novels, in books chronicling his classic adventures as a happy eater, and in the column USA Today called "simply the funniest regular column in journalism."

Calvin Trillin became The Nation's "deadline poet" in 1990, and has also written verse on the events of the day for The New Yorker, The New York Times, and National Public Radio. His books on eating (American Fried, Alice, Let's Eat, and Third Helpings) are classics. He is also known for his more serious nonfiction books, such as About Alice, Remembering Denny, and Killings; his comic novels, such as Tepper Isn't Going Out; and his humorous commentary, most recently in Obviously On He Sails, A Heckuva Job, and Deciding the Next Decider.

(Random)
QUITE ENOUGH OF CALVIN TRILLIN: Forty Years of Funny Stuff by Calvin Trillin
In this definitive collection of his humor Calvin Trillin is prescient, insightful, and invariably hilarious as he deals with such subjects as the horrors of witnessing a voodoo economics ceremony and the mystery of how his mother managed for thirty years to feed her family nothing but leftovers. ("We have a team of anthropologists in there now looking for the original meal.")
"Some of the best pieces of the esteemed humorist's long career. Trillin is best known for his writing on food and politics, and there's a feast of both in this collection of four decades of work. Trillin has held a range of interests throughout his career, and the book makes room for his critiques of high finance, satirical pieces about Jewish culture and self-deprecating pieces on his failures as a househusband. The tone is always bright and genial, and gags about car alarms and corruption are deathless." — Kirkus Reviews.
"Trillin dances around a subject, examines it from different angles, and finds fun in the commonplace throughout this huge and hilarious comedic compendium." — Publishers Weekly

(Random)
ABOUT ALICE by Calvin Trillin
Calvin Trillin offers this loving portrait of Alice Trillin - an educator who was equally at home teaching at a university or a drug treatment center, a gifted writer, a stunningly beautiful and thoroughly engaged woman who, in the words of a friend, "managed to navigate the tricky waters between living a life you could be proud of and still delighting in the many things there are to take pleasure in." Though it deals with the devastating loss of his wife, About Alice is also a love story, chronicling a romance that began at a Manhattan party when Calvin Trillin desperately tried to impress a young woman who "seemed to glow." He never quit trying to impress her. In his writing, she was sometimes his subject and always his muse. The dedication of the first book he published after her death read, "I wrote this for Alice. Actually, I wrote everything for Alice." In that spirit, Calvin Trillin has, with About Alice, created a gift to the wife he adored and to his readers.

(FSG)
THE TUMMY TRILOGY by Calvin Trillin
Three comic masterpieces from "the Walt Whitman of American eats" are now available in what Trillin calls "The Tummy Trilogy."
"The appearance of this omnibus volume couldn't be more welcome. Reprinting three collections of essays that appeared originally in the New Yorker - "American Fried" (1974), "Alice, Let's Eat" (1978), and "Third Helpings" (1983) - the book offers a chance to reacquaint ourselves not only with the mouth-watering local foodstuffs Trillin lusts after (barbecue in Kansas City, crawfish in Louisiana), but also with the eccentric cast of characters who accompany him on his crusades: the inimitable pizza baron Fats Goldberg; his fishstick-loving daughters; and, of course, his long-suffering and ever-ironic wife, Alice. A must!" — Booklist *** starred review ***.
Walden Pond Books will be providing signed copies of Calvin Trilling's books for sale at the event . We hope to see you there!
---
KPFA Radio presents:
CHRISTIAN PARENTI
Tropic of Chaos
Climate Change and the New Geography of Violence
Thursday, July 14 @ 7:30 pm
The Hillside Club
2286 Cedar Street, Berkeley
Hosted by Richard Wolinsky



Advance Tickets: $12.00 | Tickets at the Door: $15.00
From Africa to Asia and Latin America, the new era of climate war has begun. As temperatures rise, glaciers melt, droughts intensify and extreme weather becomes more frequent, climate change is expressing itself as greater violence, humanitarian crisis, social breakdown and spreading state failure. In his new book Tropic of Chaos, award-winning writer Christian Parenti travels the frontlines of this gathering catastrophe to reveal its economic, political and military history in a skillful combination of literary journalism and cold-eyed scholarly analysis.

Christian Parenti is a contributing editor at The Nation and a visiting scholar at the City University of New York. He has a PhD in sociology from the London School of Economics. The author of Lockdown America, The Soft Cage and The Freedom, he has written for Fortune, the New York Times, Mother Jones and the London Review of Books.

(Nation)
TROPIC OF CHAOS: Climate Change and the New Geography of Violence by Christian Parenti
Christian Parenti explores the belt of economically and politically battered postcolonial nations and war zones girding the planet's midlatitudes. Here he finds failed states amid climatic disasters. But he also reveals the unsettling presence of Western military forces and explains how they see an opportunity in the crisis to prepare for open-ended global counterinsurgency. Parenti argues that the struggling states of the developing world cannot be allowed to collapse, as they will take other nations down as well. Instead, we must work to meet the challenge of climate-driven violence with a very different set of sustainable economic and development policies.
"Parenti's careful reporting and grasp of politics and economics support the book's urgent message that impending global chaos is all but assured unless the developed world finds the political will to imagine a better future." — Publishers Weekly

(Verso)
LOCKDOWN AMERICA: Police and Prisons in the Age of Crisis by Christian Parenti
The updated edition of the classic examination of the link between crime and politics.
Why is criminal justice so central to American politics? Lockdown America not only documents the horrors and absurdities of militarized policing, prisons, a fortified border, and the federalization of the war on crime, it also explains the political and economic history behind the massive crackdown. This updated edition includes an afterword on the War on Terror, a meditation on surveillance and the specter of terrorism as they help reanimate the criminal justice attack. Written in vivid prose, Lockdown America will propel readers toward a deeper understanding of the links between crime and politics in a period of gathering economic crisis.

(Basic)
THE SOFT CAGE: Surveillance in America, from Slavery to the War on Terror by Christian Parenti
A vivid, chilling history of surveillance in American life - from the antebellum South to the computerized landscape of the futuristic present. Christian Parenti details a relentless (and clandestine) expansion of routine surveillance in American life over the last two centuries - from controlling slaves in the old South to implementing early criminal justice and tracking immigrants. Parenti explores the role computers are playing in creating a whole new world of seemingly benign technologies that have expanded this trend in the twenty-first century. The Soft Cage offers a compelling, vitally important history lesson for every American concerned about the expansion of surveillance into our public and private lives.
Walden Pond Books will be providing signed copies of Christian Parenti's books for sale at the event . We hope to see you there!
---
KPFA Radio and La Pena Cultural Center present:
OSCAR HIJUELOS
Thoughts Without Cigarettes, A Memoir
Friday, June 17 @ 7:30 pm
La Pena Cultural Center
3105 Shattuck Avenue, Berkeley
Hosted by Nina Serrano



Advance Tickets: $12.00 | Tickets at the Door: $15.00
In his autobiography, Thoughts Without Cigarettes, Oscar Hijuelos, the first Latino winner of the Pulitzer Prize for Fiction (for his novel, The Mambo Kings Play Songs of Love) turns his pen to the real people and places that have influenced his life and, in turn, his literature.

Growing up in New York City as the son of Cuban immigrants in a Spanish-speaking home in a rough neighborhood, Oscar Hijuelos often explores in his work what it means to be an immigrant in America. He works with the universal themes of love, family, identity and music. He is a recipient of the Rome Prize, the Pulitzer Prize, and grants from the National Endowment for the Arts and the Guggenheim Foundation, among others. In September of 2000 Hijuelos was honored at the Kennedy Center in Washington, D.C. as part of the National Hispanic Heritage Awards. His books have been translated into 25 languages. Currently he teaches at Duke University.

(Gotham)
THOUGHTS WITHOUT CIGARETTES: A Memoir by Oscar Hijuelos
The novels of Oscar Hijuelos have enchanted readers worldwide, transporting us to vibrant worlds and inspiring great conversations about the power of love and memory. In Thoughts Without Cigarettes, his first nonfiction book, Hijuelos takes us home to the locales - in New York and beyond - that have stoked his creativity throughout his life. Raising provocative questions about identity, survival, and the sometimes conflicted feelings we have about our families, Thoughts Without Cigarettes captures a life story you will not soon forget. "Hijuelos makes no attempt to turn his life into a narrative. Rather, he simply remembers, sometimes with melancholy prompted not only by his own difficulties but also by the frustrations of his parents, sometimes with fondness, as when he reflects upon his alcoholic father's joie de vivre and his overprotective mother's poetic soul. Its very lack of artifice gives this quiet, thoughtful memoir its subtle power." — Booklist *** starred review ***

(Hyperion)
THE MAMBO KINGS PLAY SONGS OF LOVE by Oscar Hijuelos
It's 1949, the era of the mambo, and two young Cuban musicians make their way from Havana to New York. The Castillo brothers, workers by day, become, by night, stars of the dance halls, where their orchestra plays the sensuous, pulsing music that earns them the title of the Mambo Kings. This is a golden time that thirty years later will be remembered with deep affection.
When it was first published in 1989, The Mambo Kings Play Songs of Love became an international bestselling sensation, winning rave reviews and the Pulitzer Prize for Fiction.
"By turns street-smart and lyrical, impassioned and reflective ...a rich and provocative book - a moving portrait of a man, his family, a community and a time." — New York Times

(Hyperion)
BEAUTIFUL MARIA OF MY SOUL by Oscar Hijuelos
"A sequel to The Mambo Kings Play Songs of Love that sings with the sweet sensuality of its predecessor. ...Here the novelist returns to tell the story of Maria, to render her as flesh and blood as well as exotic (and erotic) inspiration [to] Nestor Castillo, the shy but handsome trumpeter who will spend years composing the song that pays tribute to her. . . The prose combines the simplicity of a folk tale with the lyricism of a romantic balladeer and the depth of a philosopher... The result is a sequel that can be relished independently of the first volume while harmonizing with it. More than worth the wait." — Kirkus Reviews *** starred review ***

(Atheneum)
DARK DUDE by Oscar Hijuelos
Oscar Hijuelos makes his teen fiction debut with a gritty coming-of-age novel that is full of details and icons of teenage life in the 1960s: the lure of the hippie culture, the fight to fit in, and the desperate need to break away. The author brings to life a haunting choice and an unforgettable journey about identity, misidentity, and all that we take with us when we try to leave everything behind. "Frank, gritty, vibrant, and wholly absorbing, Rico's story will hold teens with its celebration of friendship and its fundamental questions about life purpose, family responsibility, and the profound ways that experience shapes identity." — Booklist *** starred review ***
Walden Pond Books will be providing signed copies of Oscar Hijuelos' books for sale at the event . We hope to see you there!
---
MAY IS
NATIONAL ZOMBIE AWARENESS MONTH
ZOMBIE LITERATURE TIMELINE
All books cited here are on display at Walden Pond Books!
BCE: The flesh-hungry undead have been a fixture of world mythology for centuries. One Thousand and One Nights is an early piece of literature that references the undead in the form of ghouls. A prime example is the story "The History of Gherib and His Brother Agib" in which Gherib, an outcast prince, fights off a family of ravenous ghouls, enslaves them and converts them to Islam.
1810: Frankenstein by Mary Shelley, while not a zombie story proper, prefigures many 20th century ideas about zombies in that the resurrection of the dead is portrayed as a scientific process rather than a mystical one and that the resurrected dead are degraded and more violent than their living selves. The book has its roots in European folktales of the vengeful dead.
Later 19th Century: Later notable 19th century stories about the avenging undead included "The Death of Halpin Frayser" by Ambrose Bierce and various tales by Edgar Allan Poe. Though their works couldn't be properly considered zombie stories, the supernatural tales of Bierce and Poe would prove influential on later undead-themed writers such as H. P. Lovecraft.
1921: Between October 1921 and June 1922, H. P. Lovecraft produced a serialized short story, "Herbert West - Reanimator," which helped define zombies in popular culture. This story featured Herbert West, a mad scientist who attempts to revive human corpses with mixed results. This story is notable as one of the first depictions of zombies as corpses arising through scientific means and as animalistic, uncontrollably violent creatures.
1929: One of the first books to expose 20th century western culture to the concept of the zombie was The Magic Island by W.B. Seabrook in 1929. The book is the sensational account of a traveler in Haiti who encounters voodoo cults and their resurrected slaves. Time magazine claimed that the book "introduced 'zombi' into U.S. speech". As such, it is regarded as one of the most collectable of all books in zombie literature.
1954: The publication of I Am Legend, by author Richard Matheson, would further influence the zombie genre. It is the story of a future Los Angeles, overrun with undead bloodsucking beings. A notable influence on the zombie genre is Matheson's portrayal of a worldwide apocalypse due to the infestation, in addition to the concept of the zombie state as a disease. (The novel would be adapted to film as The Last Man on Earth in 1964, as The Omega Man in 1971, and again in 2007 as I Am Legend.)
1964: The release of George Romero's film, Night of the Living Dead, a taboo-breaking and genre-defining classic, would prove to be more influential on the concept of zombies than any literary or cinematic work before it and influenced dozens of future authors of zombie-oriented literature. Romero's concept of zombies is notable in terms of its thematics; he used zombies not just for their own sake, but as a vehicle to criticize real-world social ills - such as government ineptitude, bioengineering, slavery, greed and exploitation - while indulging our post-apocalyptic fantasies. Romero's concept and these themes have now become dominant in post-Night of the Living Dead zombie literature.
The 1990s: Though zombies appeared in many books after Night of the Living Dead, it wouldn't be until 1990 that zombie fiction emerged as a distinct literary subgenre, with the publication of Book of the Dead in 1990 and its follow-up Still Dead: Book of the Dead 2 in 1992, both edited by horror authors John Skipp and Craig Spector. Featuring Romero-inspired stories from the likes of Stephen King and other famous names, the Book of the Dead compilations are regarded as the first true contributions to "modern zombie literature".
The 21st Century:

2002: Max Brooks authored the cult hit The Zombie Survival Guide, an exhaustively researched, zombie-themed parody of survival guides. But, is it really a "parody"? When zombies attack, you'll really need this book!
2003: Writer Robert Kirkman and artist Tony Moore created the phenomenally successful comic book series The Walking Dead which currently features 14 volumes.
2004: David Wellington's trilogy of zombie novels began in 2004 with Monster Island, followed by two sequels, Monster Nation and Monster Planet. These were serialized in a weblog format before being published in paperback.
2005: Brian Keene's novel The Rising, which deals with a worldwide apocalypse of intelligent zombies caused by demonic possession, won the 2005 Bram Stoker Award.
2006: Famed horror novelist Stephen King published Cell, which concerns a worldwide zombie outbreak created by "The Pulse", a global electromagnetic phenomenon that turns the world's cellular phone users into bloodthirsty maniacs.
2008: Jonathan Maberry's Zombie CSU: The Forensics of the Living Dead is a compilation of interviews with over 250 experts in forensics, medicine, science, law enforcement, the military and similar disciplines who discuss how the real world would react, research and respond to zombies.
2009: The mashup novel Pride and Prejudice and Zombies by Seth Grahame-Smith combined the full text of Jane Austen's Pride and Prejudice with a story about a zombie epidemic within the novel's British Regency period setting.
2010: To universal zombie-fan acclaim, the month of May was established as "National Zombie Awareness Month" by the Zombie Research Society. (The Zombie Research Society was founded in 2007 to further academic research into the causes, prevention, and preparation for the eventual zombie pandemic.)
2011: Walden Pond Books celebrates "National Zombie Awareness Month" with a tasteful display of all the works cited in this "Zombie Literature Timeline".

Portions of the "Zombie Literature Timeline" have been paraphrased from the following web sites:
The Zombie Research Society
The "Zombie" Wikipedia entry
The "Zombie Apocalypse" Wikipedia entry
ZombieBooks.com
Best Zombie Books
---
KPFA Radio presents:
CHRIS HEDGES
THE WORLD AS IT IS:
Dispatches On the Myth of Human Progress
Monday, May 2 @ 7:30 pm
First Congregational Church
2345 Channing Way, Berkeley
Hosted by John Hamilton



Advance Tickets: $12.00 | Tickets at the Door: $15.00
Pulitzer Prize-winner Chris Hedges' new collection of essays, The World As It Is, draws on the unique experiences of a deeply educated individual – a student of Christian ethics and the classics at Harvard – who has spent nearly twenty years as a foreign correspondent in the most troubled areas of Central America, the Middle East, Africa, and the Balkans.

Chris Hedges is a fellow of The Nation Institute. He spent fifteen years reporting for the New York Times. He is the author of War Is a Force That Gives Us Meaning, American Fascists, Empire of Illusion, I Don't Believe in Atheists, and Death of the Liberal Class. Currently he writes for Harper's, The New York Review of Books, Granta and Mother Jones. He contributes a hugely influential weekly column for the progressive news site Truthdig wherein he discusses many of the most urgent issues of our times – including our imperial wars in the Middle East, the problems of peace in Israel and Palestine, and the abject failure of American liberalism in the face of the corporate takeover of the American government.

Nation
THE WORLD AS IT IS: Dispatches On the Myth of Human Progress by Chris Hedges
"Former New York Times correspondent Hedges offers a collection of his recent articles grouped under a handful of topics: 'Politics,' 'Israel and Palestine,' 'The Middle East,' 'The Decay of Empire'. It's indicative of the longtime war correspondent's experienced eye and commitment to social justice that these areas include subject matter of especially pressing concern as in the timely "Inside Egypt" and other dispatches providing vivid background and astute observations on a roiling Middle East. . . .Direct and damning . . .stirring reportage. . . The author's pointed descriptions of the dangers of American 'political passivity' deserve careful consideration along with much else in these powerfully written pages." — Publishers Weekly *** starred review ***

Nation
DEATH OF THE LIBERAL CLASS by Chris Hedges
"In this tsunami of terrifying revelations, juxtaposed truths, and demonstrated facts, Hedges argues that the traditional beacons of the liberal class - the universities, media, church, labor unions, and arts - have sacrificed themselves completely to the dominance of corporate greed and unbounded capitalism. . . .Every page erupts with calamities of the human spirit." — Publishers Weekly *** starred review ***
Walden Pond Books will be providing signed copies of Chris Hedges' books for sale at the event . We hope to see you there!
---
PAST CONTESTS:
The Walden Pond Books
Philip K. Dick Award Contest

8:30 PM, Friday, April 22 UPDATE:
The Philip K. Dick Award results are in!
The winner is:


THE STRANGE AFFAIR OF SPRING HEELED JACK by Mark Hodder
If you voted for this nominee, you will be contacted by telephone
and awarded a Walden Pond Books $20.00 gift certificate.

Monday, February 14 through Thursday, April 21, 2011
Purchase any of the seven books nominated for this year's
Philip K. Dick Award

The Philip K. Dick Award is presented annually with the support
of the Philip K. Dick Trust for distinguished science fiction
published in paperback original form in the United States.

Every store copy contains a ballot.
Vote for the book you think will win the award
and leave us your name and phone number.
Pick the winning title and win a
Walden Pond Books $20.00 gift certificate!

Please note: All submitted ballots must be attached to a purchase receipt.

WINNER ANNOUNCED ON FRIDAY, APRIL 22, 2011
2011 Philip K. Dick Award Nominees for Best Science Fiction Novel:

Night Shade
YARN by Jon Armstrong
In this pioneering novel of "fashionpunk", the future isn't just dystopian - it's superficial. Cities are towering bastions of "sex and shopping" where "saleswarriors" battle for customers. Tane Cedar, master tailor in a future where fashion and power go hand in hand with cutting-edge technology and designer drugs, fulfills a dying ex-lover's request to create a garment from the illegal Xi-yarn, a psychotropic material that will allow her to die in bliss. Armed with just his yarn pulls, scissors, Mini-Air-Juki handheld sewing machine, and his wits, Tane journeys through the shadowy underworld where he must untangle the deadly mysteries and machinations of decades of deceit. "Armstrong's stylized tale is a profoundly moving fusion of visionary images and compelling social commentary." — Publishers Weekly *** starred review ***

Spectra
CHILL by Elizabeth Bear
The award-winning author of Dust delivers the second volume in her groundbreaking space opera, the Jacob's Ladder trilogy. The generation ship Jacob's Ladder has barely survived cataclysms from without and within. Even as the new captain struggles to come to terms with the traumas of her recent past, the remnants of rebellion aboard the ship still threaten the crew's survival. "A remarkable SF writer who's leaving many of her contemporaries in the dust." — SF Reviews.Net. "Bear enhances the usual generation ship themes (social amnesia, decaying infrastructure, and mission-threatening grand calamities) with enough new flourishes, including a biotechnology-based class system and cruel experiments based on misapprehensions of Darwin, to keep readers very happily engaged." — Publishers Weekly

Henry Holt
THE REAPERS ARE THE ANGELS by Alden Bell
Zombies have infested a fallen America, and a young girl named Temple is on the run. Haunted by her past and pursued by a killer, she moves back and forth between the insulated remnants of society and the brutal frontier beyond—seeking salvation and a place to make a home. "Alden Bell provides an astonishing twist on the southern gothic: like Flannery O'Connor with zombies." — Michael Gruber. "A literary/horror mashup that is unsettlingly good." — USA Today. "Bell (a pseudonym for Joshua Gaylord, author of Hummingbirds) has created an exquisitely bleak tale and an unforgettable heroine whose eye for beauty and aching need for redemption somehow bring wonder into a world full of violence and decay." — Publishers Weekly *** starred review ***

Eos
THE SONG OF SCARABAEUS by Sara Creasy
Trained since childhood in advanced biocyph seed technology by the all-powerful Crib empire, Edie's mission is to terraform alien worlds while her masters bleed the outlawed Fringe populations dry. When renegade mercenaries kidnap Edie, she's not entirely sure it's a bad thing - until they leash her to a bodyguard, Finn, a former freedom fighter-turned-slave. If Edie strays from Finn's side, he dies. If she doesn't cooperate, the pirates will kill them both. "This brilliantly conceived debut heralds a significant new talent. . . Creasy's convincing scientific speculation, appealing characterizations, and eerie alien landscapes make this science fiction romance deeply satisfying." — Publishers Weekly *** starred review ***

Pyr
WINNER: THE STRANGE AFFAIR OF SPRING HEELED JACK by Mark Hodder
Sir Richard Francis Burton and his sidekick, poet Algernon Swinburne, investigate the dark secrets of 19th-century England. "The usual superlatives for really clever fantasy (imaginative, mind-bending, phantasmagorical) aren't nearly big enough for this debut novel. With this one book, Hodder has put himself on the genre map. Hodder has brilliantly combined various genre staples (time travel, alternate reality, steampunk) into something you've never quite seen before. His mid-nineteenth-century Britain features steam-driven velocipedes, rotorchairs, verbally abusive messenger parrots, a pneumatic rail system, and robotic street cleaners. . . The book is incredibly ambitious, and the author pulls it off like an old pro: not only is the setting exciting and fresh, the story is thrilling and full of surprises." — Booklist *** starred review ***

Viz Media
HARMONY by Keikaku (Project) Itoh
In the future, Utopia has finally been achieved thanks to medical nanotechnology and a powerful ethic of social welfare and mutual consideration. This perfect world isn't that perfect though, and three young girls stand up to totalitarian kindness by attempting suicide via starvation. It doesn't work, but one of the girls grows up to be a member of the World Health Organization. As a crisis threatens the harmony of the new world, she rediscovers another member of her suicide pact, and together they must help save the planet. . .from itself. "Itoh's last novel (he completed it in hospital whilst being treated for the cancer that eventually killed him) manages to be simultaneously fast-moving and incident-filled and thoughtful and thought-provoking. . .This Brave New World for the world of the 21st-century is a major intervention into contemporary utopian writing." — Adam Roberts, Locus Magazine *** starred review ***

Roc
STATE OF DECAY by James Knapp
A thrilling debut novel of a dystopian future populated by a new breed of zombie. They're called revivors - technologically reanimated corpses - and they do humanity's dirtiest work. Revivors were first created on the battlefield as a kind of cannon fodder, but now they are used for various legitimate and illicit purposes. Society is stratified, with members of the underclass buying their way up the ladder by selling their bodies to be made into revivors after death. But FBI agent Nico Wachalowski has stumbled upon a conspiracy involving revivors being custom made to kill - and a startling truth about the existence of these undead slaves. "Knapp's intense debut is a high-adrenaline thriller that takes the familiar zombie story down a radically new path. . . Knapp's writing is sharp and his fast and furious plot twists keep the pages turning." — Publishers Weekly.
---
May 1 through September 4, 2010
The Walden Pond Books
Hugo Award Contest

September 5 UPDATE: The results are in!
Winner(s), Best Novel: TIE:
The City & The City, China Miéville | The Windup Girl, Paolo Bacigalupi

May 1 through September 4, 2010
Purchase any of the six books nominated for the
2010 Hugo Award
for Best Novel in the field of science fiction and fantasy.
Every store copy contains a ballot.
Vote for the book you think will win the award
and leave us your name and phone number.
Pick the winning title and win a
Walden Pond Books $20.00 gift certificate!

Please note: All submitted ballots must be attached to a purchase receipt.

The 2010 Hugo Awards will be announced and presented
in Melbourne, Australia at the
68th World Science Fiction Convention
on Sunday, September 5, 2010.
2010 Hugo Award Nominees for Best Novel
in the field of science fiction and fantasy:

Tor
BONESHAKER by Cherie Priest
A steampunk-zombie-airship masterpiece! In an alternate America, mad inventor Leviticus Blue is blamed for destroying Seattle. When his son goes into the wreck of a city to clear his father's name, his mother follows him in an airship to rescue her son from the toxic gas that turns people into zombies. "Intelligent, exceptionally well written and showcasing a phenomenal strong female protagonist ...this yarn is a must-read." — Publishers Weekly *starred review*

Del Rey
WINNER: THE CITY & THE CITY by China Mieville
Named one of the Best Books Of The Year by The Los Angeles Times, The Seattle Times, and Publishers Weekly. "An outstanding take on police procedurals... Twin cities Beszel and Ul Qoma coexist in the same physical location, separated by their citizens' determination to see only one city at a time. Inspector Tyador Borlú of the Extreme Crime Squad roams through the intertwined but separate cultures as he investigates the murder of Mahalia Geary..."— Publishers Weekly *starred review*

Tor
JULIAN COMSTOCK: A Story of 22nd-Century America by Robert Charles Wilson
"Following a total collapse of the social order, the reborn American administration resides in New York City. The 60 states have reintroduced slavery; the Church of the Dominion exercises supreme religious power; technology is Victorian... Expertly handled prognostication with more than a touch of somber magnificence."— Kirkus Review *starred review*. "Written with the eloquence and elegance of a Victorian novel, this thoughtful tale combines complex characters, rousing military adventure and a beautifully realized, unnerving future."— Publishers Weekly *starred review*

Bantam Spectra
PALIMPSEST by Catherynne Valente
An erotic and exotic tale of four lost souls mapping a fantastical city. "Everyone lucky or doomed enough to go to Palimpsest, a city visited only in dreams, awakes bearing a tattooed map of its neighborhoods. Each of four travelers linked by ink stains in a frog-headed fortune-teller's shop finds an unimaginable fate in the city... Overflowing with poetic images and epic repetition, Valente's story washes us to an unexpected shore."— Booklist

Ace
WAKE by Robert J. Sawyer
Caitlin Decter is young, pretty, feisty, a genius at math, and blind. When she receives an implant to restore her sight, instead of seeing reality she perceives the landscape of the World Wide Web - where she makes contact with a mysterious consciousness existing only in cyberspace. "The wildly thought-provoking first installment of Sawyer's 'WWW Trilogy' explores the origins and emergence of consciousness.... The thematic diversity—and profundity—makes this one of Sawyer's strongest works to date."— Publishers Weekly *starred review*

Night Shade
WINNER: THE WINDUP GIRL by Paolo Bacigalupi
What happens when calories become currency? What happens when bio-terrorism becomes a tool for corporate profits? "Grim but beautifully written tale of Bangkok struggling for survival in a post-oil era of rising sea levels and out-of-control mutation... This complex, literate and intensely felt tale ...will garner Bacigalupi significant critical attention and is clearly one of the finest science fiction novels of the year." — Publishers Weekly *starred review*.
• Michael Dirda reviews 2010 Nebula Award winner by Paolo Bacigalupi for The Washington Post Book Review.
The Walden Pond Books
Edgar Award Contest
April 1 through April 28, 2010
Purchase any of the six books nominated for the
2010 Edgar Award for best mystery novel.
Every store copy contains a ballot.
Vote for the book you think will win the award
and leave us your name and phone number.
Pick the winning title and win a
Walden Pond Books $20.00 gift certificate!
WINNER ANNOUNCED ON THURSDAY, APRIL 29

April 29 update: And the winner is.....
THE LAST CHILD by John Hart
2010 Edgar Award Nominees for Best Mystery Novel:

Vintage
THE MISSING by Tim Gautreaux
A masterful novel set in 1920s Louisiana. When a little girl is kidnapped, a New Orleans department store floorwalker is haunted by guilt, grief, and ghosts from his own troubled past. With the fate of the stolen child looming, The Missing vividly depicts an America where civilization is only beginning to penetrate the hinterlands, and a man must choose between compassion and vengeance.

Minotaur
THE ODDS by Kathleen George
A young boy in Pittsburgh's North Side neighborhood dies of a suspicious overdose. In this same neighborhood, four young kids have been abandoned and are living on their own. Connecting these people and their stories is Nick Banks, who is just out of prison. "A truly original tale featuring four amazing youngsters: they are resilient, resourceful, and responsible. This very modern police procedural will not be easily forgotten." — Library Journal *starred review*

Minotaur
WINNER! THE LAST CHILD by John Hart
Thirteen year-old Johnny Merrimon knew nothing of loss, until the day his twin sister Alyssa vanished from the side of a lonely street. Now, a year later, Johnny finds himself isolated and alone, failed by the people he'd been taught since birth to trust. No one else believes that Alyssa is still alive, but Johnny is certain that she is. With "The Last Child," John Hart achieves his most significant work to date, an intricate, powerful story of loss, hope, and courage in the face of evil.

Ballantine
THE MYSTIC ARTS OF ERASING ALL SIGNS OF DEATH by Charlie Huston
With his teaching career derailed by tragedy, Webster Fillmore Goodhue joins Clean Team, charged with tidying up L.A.'s grisly crime scenes. Then things get weird... "Noir master Charlie Huston should win himself a whole new audience with this bizarre and utterly grotesque stand-alone... Huston, one of his generation's finest and hippest talents, shows in grisly detail what cleaning up after the dead entails" — Publishers Weekly *starred review*

Harper
NEMESIS by Jo Nesbø
From one of the most celebrated crime writers in Europe and the award-winning author of The Redbreast comes this work that features the maverick methods of detective Harry Hole as he investigates a series of brutal bank robberies. "Multitextured, complexly plotted, psychologically rich thriller... an unqualified success. No doubt about it: Nesbo belongs on every crime-fiction fan's A-list." — Booklist *starred review*

Washington Square
A BEAUTIFUL PLACE TO DIE by Malla Nunn
A stunning and darkly romantic crime novel set in 1950s apartheid South Africa, featuring Detective Emmanuel Cooper -- a man caught up in a time and place where racial tensions and the raw hunger for power make life very dangerous indeed. "When Detective Cooper investigates white suspects in the fatal shooting of Afrikaner police captain Willem Pretorius, he immediately encounters resistance from the victim's family. Before long, brutal investigators from the Security Branch offer a politically expedient solution..." — Publishers Weekly *starred review*
The Walden Pond Books
Philip K. Dick Award Contest
March 1 through April 2, 2010
Purchase any of the seven books nominated for the
2010 Philip K. Dick Award
and vote for the book you think will win the award.
Pick the winning title and win a Walden Pond Books $20.00 gift certificate
WINNER ANNOUNCED ON FRIDAY, APRIL 2

APRIL 2 UPDATE: and the winner is.....
Bitter Angels by C. L. Anderson (Ballantine Books/Spectra)

Congratulations to Walden Pond Books customer Phil Boudreau!
Phil picked the winner of the 2010 Philip K. Dick Award from the official
shortlist of seven nominees and won a $20.00 gift certificate.
2010 Philip K. Dick Award Nominees for Best Science Fiction Novel:

Spectra
WINNER: 2010 PHILIP K. DICK AWARD
BITTER ANGELS by C. L. Anderson
This dazzling military science-fiction debut features a fast-paced, intriguing plot and a strong, complex, female hero. Ex-Field Commander Terese Drajeske, now a mother of three, has been called back to active duty and sent to Erasmus, ostensibly to investigate the murder of her colleague—and friend—Bianca Fayette. At first blush, the death defies explanation: Bianca was immortal. But beneath that single murder lies a twisted foundation...

Aqueduct
CENTURIES AGO AND VERY FAST by Rebecca Ore
"Rebecca Ore pulls off an audacious experiment: using the raw language and deliberate focus on sexual encounters of 'slash' fiction to relate a series of linked episodes and moments of reflection from the stupendously long life of a gay male, from his earliest days as a mammoth-hunting caveman to around the present." — Locus

Pyr
CYBERABAD DAYS by Ian McDonald
The India of 2047 is a new, muscular superpower of one and a half billion people in an age of artificial intelligences, climate-change induced drought, water-wars, strange new genders, genetically improved children, and a population where males outnumber females four to one. A collection of seven stories, one Hugo nominee and one Hugo winner among them, as well as a thirty-one-thousand word original novella. As with everything Ian McDonald does, it is sure to be one of the most talked about books of the year.

Spectra
THE PRISONER by Carlos J. Cortes
2049. Earth's prisons are shut down and all inmates placed in massive hibernation tanks. In the ten years since then, no one has broken out…until now. Laurel Cole was one of those inmates—and now she's on the run. Pursued by a ruthless mercenary, Laurel seeks help from a group of renegades who live in the fetid darkness of a massive sewer system.

Daw
PROPHETS: APOTHEOSIS: BOOK ONE by Andrew S. Swann
It's been nearly 200 years since the collapse of the Confederacy. So when signals come in revealing lost human colonies that could shift the power balance, the race is on between the Caliphate ships and a small team of scientists and mercenaries.

Harper
THE REPOSSESSION MAMBO by Eric Garcia
Thanks to the technological miracle of artiforgs, now you can live virtually forever. Nearly indestructible artificial organs, these wonders of metal and plastic are far more reliable and efficient than the cancer-prone lungs and fallible kidneys you were born with--and the Credit Union will be delighted to work out an equitable payment plan. But, of course, if you fall delinquent, one of their dedicated professionals will be dispatched to track you down and take their product back.

Del Rey
THE DEVIL'S ALPHABET by Daryl Gregory
As a teen, Paxton Martin left the town of Switchcreek, Tenn., to escape a scandal and the retrovirus that afflicted many of the town's inhabitants. Many died hideously, and most survivors turned into strange creatures. But now Paxton has returned... "A wide variety of believable characters, a well-developed sense of place and some fascinating scientific speculation" — Publishers Weekly *starred review*