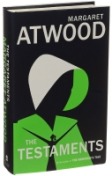 WE'RE OPENING EARLY ON TUESDAY, SEPTEMBER 10
THE TESTAMENTS, Margaret Atwood's sequel to her beloved and acclaimed novel THE HANDMAID'S TALE, will be released on Tuesday, September 10.

If you'd like to pick up a copy of the most anticipated book of the year on your way to work or school, Walden Pond Books will be open at 8:00 a.m. on that date.
FREE TOTE BAG TO FIRST TEN
PURCHASERS OF THE TESTAMENTS!