Store News & Events
Past Events & Contests
YOU SHOULD KNOW ABOUT:
NEWS & EVENTS AT WALDEN POND BOOKS

Are your books taking up more space in your home than they deserve? Moving? Need some cash for your books? Want to trade books you've read for books you haven't read? Bring us your books! We might not take all of them, but we'll pay cash or give you store credit for the ones we do want.

Sunday, October 1 through Saturday, October 21, 2017: We've resumed buying and trading books in October. We buy and trade books the first 21 days of each month - except December - from 10:00am through 3:00pm.

Sunday, October 22 through Tuesday, October 31, 2017: We will stop buying and trading books until Wednesday, November 1, 2017.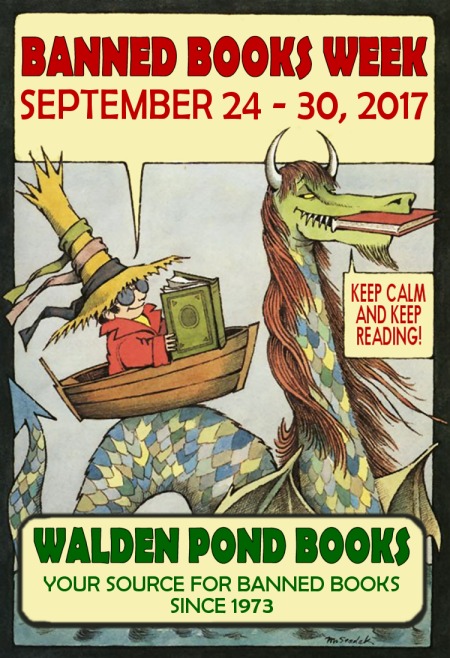 Sunday, September 24 through Saturday, September 30, 2017:
Celebrate Banned Books Week at Walden Pond Books - your source for banned books since 1973!


ANNOUNCED AUGUST 11:


ANNOUNCED JULY 28:





---
AUTHOR EVENT
Wednesday, April 19, 2017:

KPFA Radio presents:
OMAR EL AKKAD
Author of AMERICAN WAR: A Novel:
Wednesday, April 19 @ 7:30 pm
St. John's Presbyterian Church, 2727 College Avenue, Berkeley, CA.
Hosted by Greg Bridges

Advance Tickets @ Walden Pond Books: $12.00 | Tickets at the Door: $15.00




Omar El Akkad was born in Cairo, Egypt, and grew up in Doha, Qatar, until he moved to Canada with his family. He is an award-winning journalist and author who has traveled around the world to cover many of the most important news stories of the last decade. His reporting includes dispatches from the NATO-led war in Afghanistan, the military trials at Guantanamao Bay, the Arab Spring Rev-olution in Egypt, and the Black Lives Matter movement in Ferguson, Missouri. Omar El Akkad has been a recipient of Canada's National Newspaper Award for investigative reporting and the Goff Penny Memorial Prize for Young Canadian Journalists, as well as three National Magazine Award honorable mentions. He lives in Portland, Oregon.

American War: A Novel is Omar El Akkad's audacious and powerful first work of fiction: a story that asks what might happen if America were to turn its most devastating policies and deadly weapons upon itself.





(Knopf/Random)
AMERICAN WAR: A Novel by Omar El Akkad
The Second American Civil War breaks out in 2074. Oil is outlawed, Louisiana is half underwater, and unmanned drones fill the sky. Award-winning journalist Akkad's gripping and frightening debut novel takes off from current American political and environmental issues to imagine a bleak and savage not-too-distant future.
"In El Akkad's debut novel, the second American Civil War has broken out, and six-year-old Sarat Chestnut is herded into a displaced persons camp with her family. There, a mysterious official begins training her to be a weapon of war. VERDICT: Well written, inventive, and engaging, this relentlessly dark tale introduces a fascinating character in Sarat. Highly recommended!" — Library Journal *** starred review ***.
"Explosive! El Akkad has created a brilliantly well-crafted, profoundly shattering saga of one family's suffering in a world of brutal power struggles, terrorism, ignorance, and vengeance. American War is a gripping, unsparing, and essential novel for dangerously contentious times." — Booklist *** starred review ***.
"Terrifyingly plausible. . . Part family chronicle, part apocalyptic fable, American War is a vivid narrative of a country collapsing in on itself." — Publishers Weekly *** starred review ***.
"Follow the tributaries of today's political combat a few decades into the future and you might arrive at something as terrifying as Omar El Akkad's debut novel, American War. Across these scarred pages rages the clash that many of us are anxiously speculating about in the Trump era: a nation riven by irreconcilable ideologies, alienated by entrenched suspicions. . . both poignant and horrifying." — The Washington Post.
"Whether read as a cautionary tale of partisanship run amok, an allegory of past conflicts or a study of the psychology of war, American War is a deeply unsettling novel. The only comfort the story offers is that it's a work of fiction. For the time being, anyway." — The New York Times.

Walden Pond Books will be providing signed copies of American War: A Novel for sale at the event. We hope to see you there!




---