YOU SHOULD KNOW ABOUT: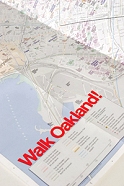 Walk Oakland!
Map & Guide

The Walk Oakland! Map & Guide highlights the City's historic walkways, neighborhoods, and landmarks. It includes bikeways, street grades, parks, schools, libraries, and post offices as well as information on pedestrian and bicyclist safety, city resources, and area transit. Now in its second edition, the map is always available at Walden Pond Books.
THE LAKE MERRITT NEIGHBORHOOD
Our neighborhood takes its name from Lake Merritt, a large tidal lagoon that lies just east of downtown Oakland, California. A popular 3.5 mile (6 km) walking and jogging path runs along its perimeter. Lake Merritt is historically significant as the United States' first official wildlife refuge, designated in 1870. Lake Merritt's north shore is surrounded by parkland, residences, and the parallel shopping districts of Lakeshore Avenue and Grand Avenue.

Walden Pond Books considers itself fortunate to be situated at 3316 Grand Avenue - in the heart of one of the most diverse and desirable neighborhoods in the Bay Area.

[Also see: SFGate Neighborhoods: Grand & Lakeshore Avenues]
[Also see: LakeMerritt.org]
August 1, 2009: Parking meters across Oakland have switched their hours of operation from 8am-6pm to 8am-8pm with no warning, and no notice. The Oakland City Council also approved an increase in parking rates from $1.50 to $2.00 an hour.

The marquee of the Grand Lake Theater on Grand Avenue is already predicting that this increase in rates and the extension of meter hours will have an unsavory effect on local businesses. The organization of petitions and protests to the Oakland City Council is underway...

UPDATE [October 7, 2009]: if you want to park in Oakland, you'll still have to pay more, just not as late. That's the concession the Oakland City Council made to business owners and drivers who have been up in arms since rate hikes and longer pay-to-park hours went into effect in July. After a long and loud public comment session on Tuesday night, October 6, the Council rolled back the controversial policy in a 6-1 vote. That means that though you'll only have to pay to park until 6pm instead of 8pm, you'll still have to pay $2.00 an hour -- a 50 cent hike. Business owners in every Oakland neighborhood say they'll continue to fight the higher parking rate.

UPDATE [October 6, 2010]: A year later, Walden Pond Books ran sales figures that compared sales between the hours of 6pm to 8pm in the months of August and September, 2009 to sales between the hours of 6pm to 8pm in the months of August and September, 2010. Sales are up 22 %. There may be other factors in play that increased our sales after 6pm during these two months, but we feel that the rollback of the pay-to-park hours to 6pm has been particularly significant.